Description
Grinding wheel for bench grinder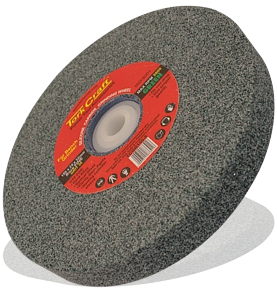 For use with bench grinders to grind glass and gems.
DIAMETER: Ø150mm
WIDTH: 20mm
BORE: Ø32mm
GRIT: 36
ABRASIVE: Silicon carbide
MAX RPM: 3800
Application:
High quality silicon carbide abrasives
bonded and precision engineered to maximize cut rate, wheel life and finish
on gems and optical glass.
Used for offhand honing stones on a bench grinder.
Do not exceed recommended rpm.
Never grind on side of wheel.
Replace cracked wheel.
Wear eye, face, body and respiratory protection.
Grinding wheel supplied with bushes to accomodate other bench
grinder shaft diameters.