WEDGIT Premium Hose Starter Kit + AQUACRAFT Hand Garden Set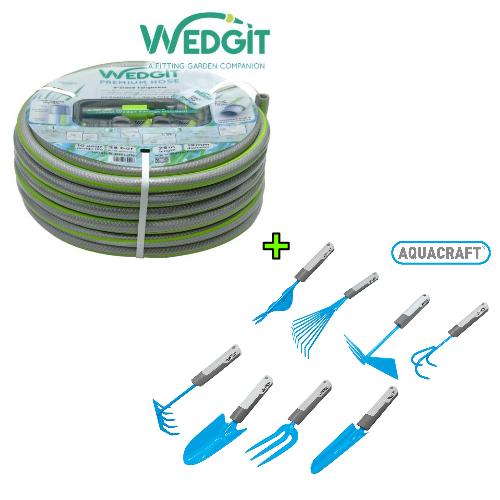 Win a WEDGIT Premium Hose Starter Kit + AQUACRAFT Hand Garden Set
With the Nationwide Lockdown coming into affect shortly, we would like to see what you all can come up with using limited resources and unlimited time.
To Enter send us any of the following:
Send us your pictures of your Latest/Current Project.
Send us your pictures of any Clever Hacks or Gardening Techniques
Send us any Project Plans you may have come up with.
Send your Lockdown Gardening Survival Tips and Tricks. Any ideas that can help other woodworkers with their craft during this time.
Include a description and any special tools, techniques or tricks used. Length is up to you, but typically the more detailed the description the better.
We will post your pictures to our Facebook page, and let you know when it has been posted. Ask your friends & family to like your entry.
The Winner will be determined by the reactions your entry received on Tools4Garden's Facebook Page as well as the quality of the entry which will be voted on by the Tools4Garden's Staff
T's & C's Apply
Send us as many entries as you like!!
Terms & Conditions
Please read through the Term's & Conditions carefully before entering.
Competition open to residents of South Africa only.
Only work generated by yourself and pictures and content that you own can be submitted. Should content be supplied that is not owned by yourself, we reserve the right to remove it immediately.
You give Tools4Garden.co.za  permission to use your content and pictures for any marketing purposes.
The Winner will be determined at Tools4Garden's descretion based on the reactions of other people to your entry as well as an internal vote. The decision will be final!
The Winner will be announced at the end of the National Lockdown. Estimated 16 April 2020
Tools4Garden reserves the right to not accept entries for any reason whatsoever.
By submitting your entry, you have read and agreed to these terms.
Signup to stay up to date with the Competition
Review Tools & earn more Bench Marks