Description

LIBERATE 2.0 Bluetooth Earplugs BLUE/YELLOW
---
Plugfones offer hearing protection and music at the same time combined with Bluetooth Technology.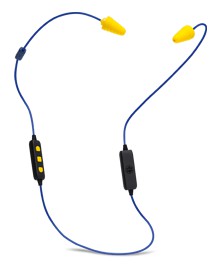 Plugfones
Ranger great for:
These Liberate 2.0 Bluetooth Plugfones are earplugs and earbuds all in one. Truly handsfree. No cables hindering you in your daily tasks. Keep you phone safely in your pcket.
Included
Replaceable Tips
Plugfones feature a patented design that allows you to interchange and replace
the tips quickly and easily.
Each pair of Plugfones includes 2 pairs of silicone tips and 2 pairs of foam
tips.
We have found our customers have different preferences and even like to
switch between tip types, depending on their activity.
If your tips wear out, no problem! Vermont Sales sells Plugfones replacement tips.