Description

Corded contractor Ear plug

---
Plugfones offer hearing protection and music at the same time.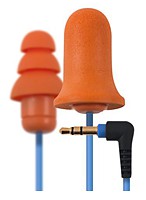 Plugfones Contractor are great for:
Engineered to help protect your hearing, Plugfones function like traditional
earplugs, but with the added benefit of audio. Listen to audiobooks and music while
you work with Plugfones. Plugfones are great for those working or recreating in
noisy envrironments who want to protect their hearing while having the convenience
of listening to music or audio.
Replaceable Tips
Plugfones feature a patented design that allows you to interchange and replace
the tips quickly and easily.
Each pair of Plugfones includes 1 pair of silicone tips and 1 pair of foam
tips.
We have found our customers have different preferences and even like to
switch between tip types, depending on their activity.
If your tips wear out, no problem! Plugfones sells replacement tips.
Plugfones have been lab tested and offer an NRR rating of 25.
Next time you go to work or mow the lawn, listen to some music or a book. Enjoy
your time with Plugfones!