Description

Plugfones Contractor VL Earplugs with Music and Volume Limiting
---
Plugfones offer hearing protection and music at the same time.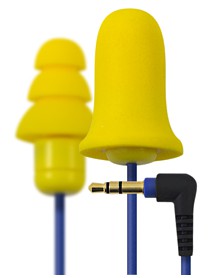 Plugfones
Contractor VL great for:
Few things can make a long day on the job go by quickly like listening to your
favorite music while you work. In hazardously loud working environments, it can
be difficult to listen to music while still being able to protect your hearing —
which is absolutely critical.
Noise above 85dB (fairly common in construction, factory, and other industrial
settings) can cause permanent hearing damage. That means you just can't give up
your hearing protection in order to listen to tunes on the job. But with Plugfones,
you can have the best of both worlds: NRR 25 hearing protection and music.
Plugfones Contractor Earplugs are tough, created to stand up to daily use. Replaceable
plug tips plus rugged construction will keep your Plugfones healthy and working
day after day. You can arrange your Plugfones to fit your clothes, environment,
and range of motion thanks to a long, flexible, extra rugged cord. Both silicone
and foam tips are included so you can get a comfortable, effective fit. And because
they fit so snugly, Plugfones won't fall out while you work — but they'll still
create a good seal against noise, so hazardous sounds stay out and your music stays
in, with good quality and clarity. (These same features make these Plugfones a good
choice for jogging, running, or the gym.)
Replaceable Tips
Plugfones feature a patented design that allows you to interchange and replace
the tips quickly and easily.
Each pair of Plugfones includes 1 pair of silicone tips and 1 pair of foam
tips.
We have found our customers have different preferences and even like to
switch between tip types, depending on their activity.
If your tips wear out, no problem! Plugfones sells replacement tips.
Plugfones have been lab tested and offer an NRR rating of 25.
Next time you go to work or mow the lawn, listen to some music or a book. Enjoy
your time with Plugfones!