Description

Corded Ranger Ear plug
---
Plugfones offer hearing protection and music at the same time.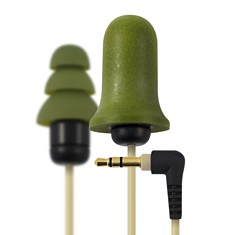 Plugfones
Ranger great for:
Ranger Plugfones are earplugs and earbuds all in one. Hunting and shooting are
fun, exciting activities, but loud gunshots can cause irreparable damage to your
ears, causing many enthusiasts to wear ear protection.
Ranger Plugfones offer comfortable, lightweight hearing protection, plus the
ability to listen to podcasts, audiobooks, or music. They feature a noise reduction
rating of 25 db and longer cables for easier wiring through clothes. They include
silicone and foam earplugs that are interchangeable and replaceable. Hunting also
requires patience. Spice up your waiting time, while simultaneously protecting your
ears, with Plugfones Ranger earplug headphones.
Replaceable Tips
Plugfones feature a patented design that allows you to interchange and replace
the tips quickly and easily.
Each pair of Plugfones includes 1 pair of silicone tips and 1 pair of foam
tips.
We have found our customers have different preferences and even like to
switch between tip types, depending on their activity.
If your tips wear out, no problem! Plugfones sells replacement tips.
Plugfones have been lab tested and offer an NRR rating of 25.
Next time you go to work or mow the lawn, listen to some music or a book. Enjoy
your time with Plugfones!